Smokeaway – Fume Extraction
Description
Available with three stages of filtration:
The 1st stage is a metal composite and filters the course fume.
The 2nd stage is an absolute filter and is typically 99% efficient. High efficiency absolute filters are available upto 99.997% efficient.
The 3rd stage optional carton filter is for gas absorbtion. The unit is complete with an integral spark trap.
Mobile units are available with either one or two self supporting extract arms. These are available in 2 metre, 3 metre or 4 metre lengths.
Static units are normally connected to a centralised extruder ductwork system.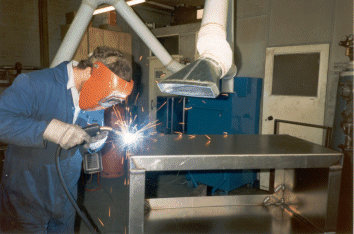 Capacity
Air volumes between 850m3/hr and 3400m3/hr for mobile units.
Air volumes between 850m3/hr and 10,200m3/hr for static units.
Appliations
Spot welding
Gas welding
Light electric are welding operations
Brazing
Not suitable for heavy duty welding and plasma cutting operations, see the CF Cartridges for these type of operations.