Powder Coating Booths Dust Extraction
A Bespoke Range Of Booths – Off Line, Conveyorised, Manual And Automatic Applications
Solutions
Sunday 20.15
The Sangre powder coating booths range with dust extraction is ideal for all types of powder coating from off line manual, converyorised manual and automatic applications : –
Manufactured from powder coated mild steel panels or stainless steel panels for durability and good powder release.
Superior powder collection maximises powder recovery.
Curved roof panels.
Sealed polycarbonate lighting panels.
Designed for rapid colour change.
Over 20 years of manufacturing experience.
Manual or powered roll on / roll off available.
Legal
Despite the UK having left the EU those who have worked with the ATEX directive and the NFPA standards for combustible dust. Directors should evaluate and classify their working conditions to evaluate the risks. In addition all process and manufacturing equipment should meet the regulations concerning legal and technical standards.
Sangre dust extraction systems meet and exceed the requirements of these various directives when they have been designed, manufactured, installed and commissioned by ourselves.
For more details please do get in touch.
Additional Downloads
Health
A clean working environment helps promote high quality production.
A dust free environment is a great way to keep your premises clean and workers motivated.
Not having dust in the atmosphere improves health by stopping worker breathing in the particles of dust. Healthier lungs make for more productive workers who are more likely carry on working for your company.
Healthier workers are happier and are more likely to remain loyal employees, helping to reduce recruitment and training costs.
Efficiency
Cutting and working with wood is a classic example of a dust problem Sangre are familiar with working with and providing enduring solutions which minimize wood dust very cost effectively. In addition to operator health considerations many machines rely upon being operated in a dust free environment to maintain their accuracy. If there is a build of dust in the working area there is a high chance that accuracy can be affected and compromised. In addition to avoiding spoilt work – the warranty on machines frequently specify that they should be operated in a low dust environment.
Working with machines in a dusty atmosphere can affect bearings and sensors – with our Dustaway extraction system you can extend the working life of machines and the machine sensors.
Why not get in touch today to learn how Sangre can tackle your dust extraction issues.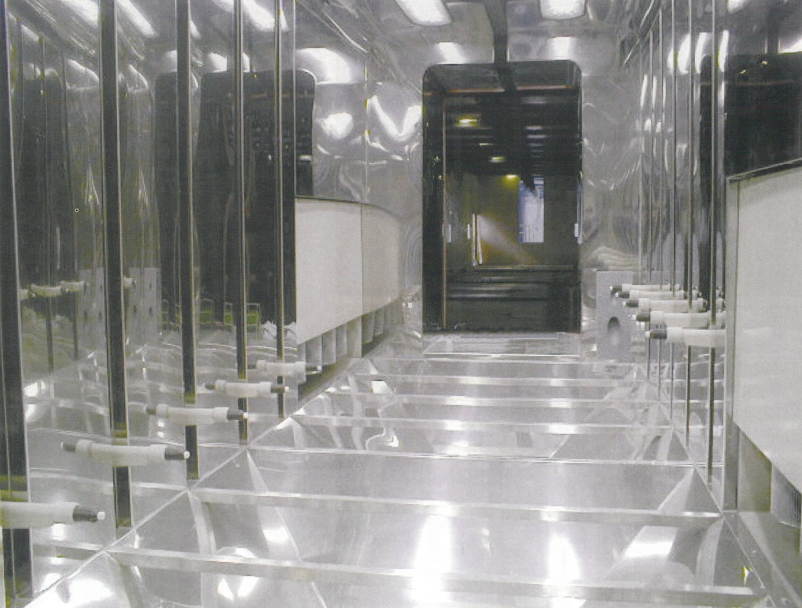 Benefits Of The Sangre Dust Recovery Equipment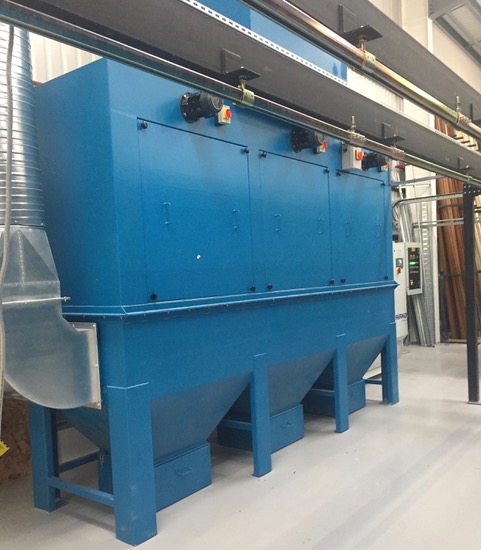 Range of high efficiency quick colour change mono and twin cyclones, with air volumes between 850 m3/hr to 24,000 m3/hr.
Colour change ductwork between booth and cyclone inlet.
Range of Auto Shake After Filters using the latest anti-static polyester filter media. Ideal for manual and small automatic booths. Air volumes between 1,000 m3/hr to 18,000 m3/hr.
Designed for rapid colour change.
Range of Cartridge After Filters using the latest anti-static polyester filter media technology.
Air volumes between 1,700 m3/hr and 25,000 m3/hr.

Available with pulse jet or swing wing cleaning systems.

Can be close coupled onto booth to become integral part of powder coating booth.

Interchangeable filter section available.
Ideal for automatic booths when compact design is required.
Sangre have been manufacturing these units since 1972 – benefit from our vast experience.
Sangre Powder Coating Capacity Range
Air volumes between 1000 m3/hr and 25,000 m3/hr
Units from 5m² to 150m² filtration area.
Integral fan & motor.
Various filter media to suit your application.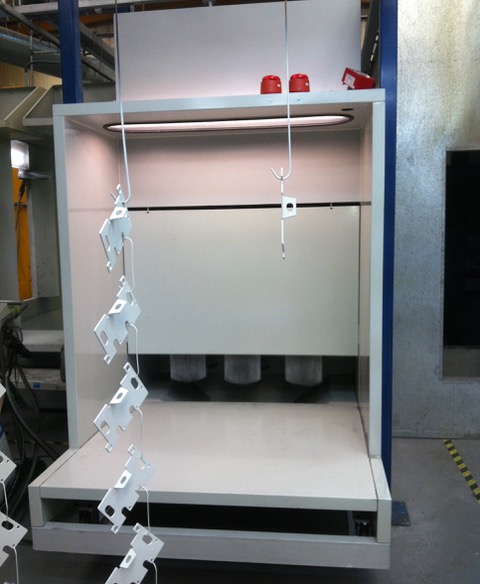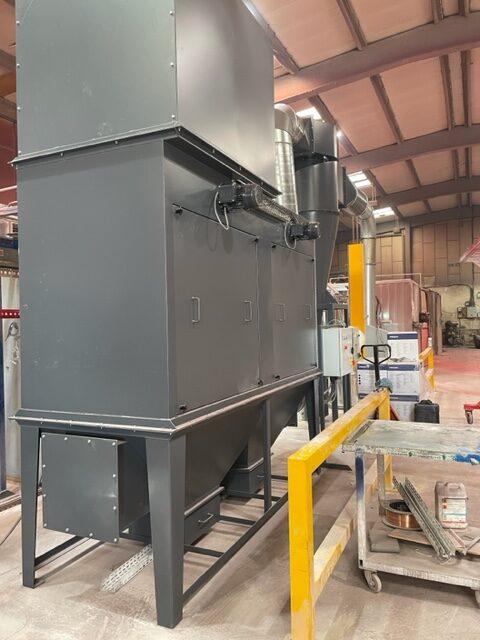 Typical Applications
Automotive Industries
All Types of finishing Industries
Filter unit is running excellently
Filter unit is running excellently since it was installed. Sangre have been knowledgeable and easy to deal with since we first requested a quotation. Would have no hesitation in recommending them.


Ronan Murphy
Metaltech Engineering
Ireland
Gallery of Powder Coating Installations